TRUE Stories
Christian and his crew are as good as it gets. I was never bored and never repeated a workout. I was consistently challenged and left feeling fantastic. The additional nutritional and lifestyle advice was as helpful as the workouts. I did several MAT sessions due to a bum shoulder. It was fantastic! I left with my shoulder feeling fantastic and with techniques to deal with future issues.

Health and Wholeness is an absolute must if you are looking to get in shape, learn about your body, and change your lifestyle.
Matt M.
---
It was such a pleasure to work with Janet. Her approach to coaching quickly put me at ease and helped me explore areas of my life that needed attention. As a result of coaching, I've created more balance. It hasn't been just about my work life. I'm more active and productive as a human being.
Marsha
---
Being an active and energetic woman, I have always loved to work out. Unfortunately my workouts only consisted of cardio, fearing the unknown of the weight lifting machines and dumb bells. I've always wanted a personal trainer so I could learn ways to better my workouts for maximum results. I decided that it would be a perfect time to get a personal trainer in the last few weeks leading up to my wedding. When I met with Heather for my consult, I knew that we'd hit it off immediately! In the five weeks we met, Heather helped me meet my goal of strengthening my core to improve my posture for that beautiful strapless gown! While helping me get bikini ready for my honeymoon, she helped me loose 3% body fat! Heather made my workouts fun and something I looked forward to each week. Without her encouraging words, creative workouts, and helpful hints I wouldn't have felt so confident on my wedding day!
Kathleen
---
Health and Wholeness has a team of amazing massage therapists! I cannot recommend the Thai Massage enough! So far, I've had two Thai Massages (and intend to go again very soon), and both were exactly what I needed. Both times I left feeling relaxed and at ease and I swear I was at least an inch taller! Before each session, my massage therapist asked me questions about problem areas and what I wanted her to focus on. It was obvious that she listened carefully and attentively because she worked on my lower back, neck and shoulders, just as I had asked her to do. She also knew the right pressure points that were directly related to my issues, and she focused her attention on those.

I loved the stretching, and I love that she knew how far to stretch my body and that she released the stretch at just the right time. The combination of stretching and massage is exactly what I needed to relieve the tension, stress and discomfort that I was haunted by before my sessions started. I can honestly say that both experiences were ones that genuinely "hurt so good!"

I would encourage anyone who wants to experience an authentic, professional Thai Massage to schedule an appointment at Health and Wholeness - you will be so glad you did!
Kyla
---
Janet was the best wellness coach I have ever worked with! Her authentic and genuine nature, and non-judgmental approach, created an atmosphere of warmth and caring right from the start. I was able to open up to Janet quickly, and I shared things about myself very easily with her because of her compassionate nature. Along with her caring heart, Janet also has a unique way of motivating people at just the right pace. She helped me move forward and gain clarity about a situation I had been struggling with for a long time. Janet has a unique coach approach that combines just the right blend of listening and talking during the sessions. I highly recommend Janet to anyone who is looking for a coach and may be unsure about taking the next step. I guarantee that after experiencing a few sessions with Janet, you won't be disappointed!
Kristin Franks, Life Coach, NCC Counselor
---
I've been seeing Theresa Spradlin for acupuncture for the past year. She is an extremely compassionate healthcare provider and care giver. I go to acupuncture for stress relief, overall health and wellbeing. I've had problems such a migraines, digestive issues, and joint pain that I don't want to take medication for and my primary care doctors don't seem to take seriously. Acupuncture helps me feel better day to day and has really helped problems with allergies, migraines, and the aforementioned joint pain and digestive issues.
H.G.
---
Team Elliot, (Christian and Nina), not only have a lot of patience for skeptical clients like me, they also know how to deliver quality, lively nutritional education. The classes, delivered via web-link powerpoint with live commentary from Christian, taught me things I did not know about our food delivery system and how it affects one's overall health. To this day there are images from that early training that inspire me to choose and eat foods that contribute to my overall well-being.

The classes gave me another valuable insight; no matter how good one's food choices, some supplements are necessary. I put off exploring their use for many months after that training. I should have been more impatient. I now take the full range of supplements suggested by Team Elliot and cannot adequately describe the dramatic difference in my life.
- Name withheld at my request for Internet privacy reasons
---
I expected a personal trainer would go around with me set the pins in the machines and keep record of my progress. I was so surprised to learn what a personal trainer really does for a client. Christian knows and does so much more for a client than what I expected. Christian's knowledge of the body and exercises, and how the body and exercise interact, has completely blown me away. He immediately evaluated me from the most basic ability to balance (who would have thought?) and developed my "routine" from there.

I put "routine" in quotation marks because our workout sessions are far from routine. Christian knows more exercises to achieve a goal than I could ever imagine existed. I am constantly engaged during each session with him and am never, ever bored.
David B.
---
I'm a 59 year old male who wasn't sure Pilates was for me, but after my first session with Heather I became not only a believer, but an outspoken proponent! She has an amazing ability to "teach and instruct" as she helps me find those muscles that need to be worked on the road to better health. Just when I think I am doing it right, she reminds me to turn that heel in, or hold the elbow at a right angle, and it always seems like she is telling me to sit up straight. And what a difference those little adjustments make in how I feel at the end of the session. If you're looking for a pilates instructor, you can't do better than Heather. An awesome talent!
David
---
Susan is a superwoman of a running coach! I have been running since high school sports but Susan helped me correct my form and gave me a very organized training schedule for the MCM. She is not only motivating, she practices what she preaches and is a true athlete. She's right there with you in the pouring rain and 100 degree days. I would very highly recommend Susan Colarco as a running coach to both new and experienced runners.
Christine C., 28, Arlington VA
---
Susan provided the best running program I've ever been a part of. It was fun, informative, structured, and personalized. She got to know every one of us personally and made the program meaningful to us all. Every week she sent out updates on the training schedule as well as informative running topics like nutrition, blister prevention, etc. I came to the program as a former runner turned couch potato and she is the reason I was able to complete not one, not two, but three half-marathons this Spring. I cannot say enough wonderful things about Susan's running coaching.
Heather B.
---
It has been my pleasure to train and run along with Susan for the past six years. Marathons and half ironman, triathlons, you name it and we've done it together. She's one tough cookie and very dedicated to fitness and helping others become better athletes. If you want to meet your fitness goals, look no further.
K.H., female, 38
---
I've always believed there must be a specific diet for each individual---if one could just figure that out. And that is exactly what Eleonora Gafton can do. My husband went to Eleonora to learn how to balance his diet to maximize his endurance bicycling and lost 20 pounds in a couple of months. I have osteoporosis and it occurred to me that I should be seeing her too to try and tailor my dietary requirements. And that is what she has worked with me to modify ....to identify areas where I might be low like zinc and B12 and iodine and ways to improve my mix of nutrients. But that is not all, because she has also identified a significant problem with not sleeping well and has also addressed this area and appropriate exercise in her plan and recommendations. She has taught us how to improve the nutrient content of foods like grains and nuts through soaking them;and how and where to buy foods are not depleted by agricultural methods. She has also helped empower us with better understanding about the physiology and role of nutrients in the body. Because she takes an integrative health and nutrition approach to guiding her clients, she is able to determine how recommendations are working and then refine suggestions along the way. I wish I had known her years ago to ensure I was getting the necessary nutrients when doing long distance bike riding. But at least now, I feel equipped with the necessary information I need to make informed eating and cooking decisions! Bon appetit!

Jan B.
---
Susan is a fun-spirited, dedicated coach who provides a holistic approach for any runner of any level. Not only emphasizing individual running technique and progression, but also educating on safety, nutrition and injury prevention/relief. As a runner for 20+ years, she guided me back to complete a half marathon after injury-- all along the way having fun with new friends each and every stride!
J.M., female, 38
---
Susan Colarco is an amazing and inspiring running coach, and I highly recommend her as a running coach. Rather apprehensively I signed up for the Health and Wholeness half-marathon training program, having never completed a single organized race of any distance in my life. In early 2013 my goal of running a half-marathon seemed insurmountable, but with Susan's practical coaching plan, mixed with her incredible ability to encourage and motivate in all the right doses, in May of 2013 I realized my ambitious goal of finishing my very first half-marathon. I know this wouldn't have been possible without Susan's dedication and inspiration.
K.S., female, 28
---
Our 6-week winter boot camp was a great success - our motley crew of 16 (20% of our organization) men and women ranged in age from early 20s to early 50s and in fitness level from those getting back into working out after years of hiatus to those that regularly participate in races and triathlons. From administrative assistants to programmers to managers, directors and the CFO, we all went into the first session feeling it might be a little weird working out with your co-workers. However we left the first session with our mantra - "no one is looking at anyone else, we're all just trying to stay alive!" It may be hard to imagine, but Nina built us bootcamp workouts that allowed for everyone to work at their own maximum capacity, and in a way that promoted collegialism and friendships. Not only are we all in much better shape (physically and mentally), it has helped strengthen our office environment and collaboration across departments. We're even continuing our bootcamp workouts with staff-led workouts and now even more people want to get involved. Forget retreats and pizza lunches, bootcamp is the answer to a well-functioning office.
Kris Schulz
---
There was a time in my life that I was a physically fit, competitive, athlete - about 50 pounds ago. Sixty pounds ago...Anyway, I needed to find some regular physical fitness routine that I could slide into easily, but the term "boot-camp" conjured images of Lee Ermey screaming at me about my major malfunction. I'm a sensitive guy and was worried about suffering even deeper blows to my self-esteem from trainers more interested in inflating their egos than helping me. As it turned out I needn't have worried one bit. Nina is friendly and supportive and encouraging. She fosters a strong sense of camaraderie and offers targeted individual coaching that really enhances your results and spurs you to greater achievement than you thought possible. She combines flexibility with her deep knowledge to fashion workouts from odd spaces (such as our auditorium) that still work muscle groups in an appropriate progression. The total experience exceeded my expectations.
Kevin Morse, AAO-HNSF bootcamper
---
I just wanted to say how amazing it has been working with Leslie for the past 6 months. In one session with her I made more progress than I have in years of trying to lose weight and get healthy. Her questions led me to think deeper and peel back layers that I didn't even know were there, I was able to start thinking about some of the root issues for why I pick up fast food or diet pepsi, and as we worked through these together she was supportive and straight forward. With the help of health coaching both Elenora, for my initial session (so point blank with me about what my terrible Diet Pepsi habit was doing to my body) and Leslie's questions and strategies, I have been able to go from a 35 a week diet pepsi habit to maybe one a week, and now it is an intentional decision, not just something I habitually reach for.
Kate S.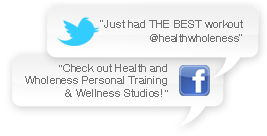 VIDEO TESTIMONIALS
Margot
Leah